Planning a trip to the Great Wall of China is always a gamble: will the AQI be ok, so you actually have a view? Will it be dry, but not too hot? Does it coincide with a major Chinese holiday you would want to avoid? How early are you willing to leave Beijing so you beat the traffic?
My last trip to the Great Wall while being a China resident proved to be one where the stars aligned. My boyfriend hadn't yet been to the Great Wall so we wanted to have the experience together. I had been to the regular tourist spots of Badaling and Mutianyu before but hadn't yet hiked the old part of the wall.
After asking my friends for recommendations, TuNga came back with John and his company Here is Beijing. John is a native Beijinger, a one-man operation and somebody who will guarantee you have a great time.
After exchanging some initial emails and wechats, we agreed on a price, a time and a route.
Setting off to Jiankou
After having landed in AQI 500 the previous night, we have low expectations for the day. However, after being picked up at our Hutong Hotel The Orchid (highly recommend staying here, book ahead!) the air continues to get better as we ascend into the mountains north of the mega city. Soon we are able to take off the masks and breathe less apocalyptically directly through the nose and mouth. We're happily squeezed into the back of this old VW Santana – as John doesn't fail to point: It has no seatbelts, but still obeys the law. (?!?! sure.. #TIC (This is China))
John takes us through tiny villages, up into rural China. We finally arrive at the beginning of the trail in Jiankou and after some instructions in excellent English and being equipped with a map (even being offered a phone) we set off. Of course, John also has drinks prepped for us and we had asked the hotel for a lunchbox.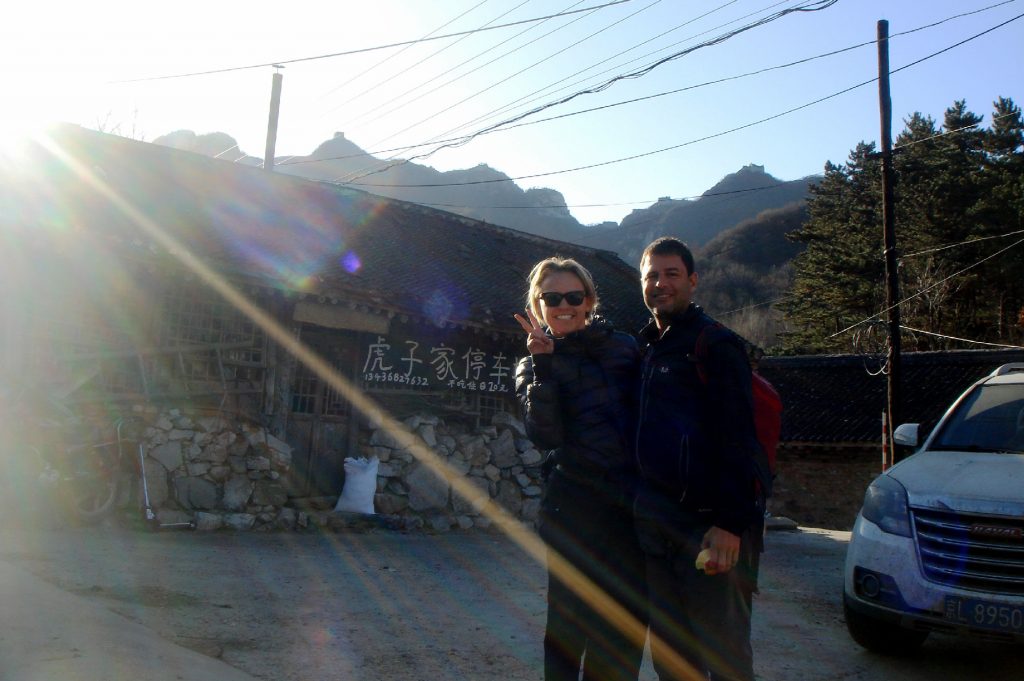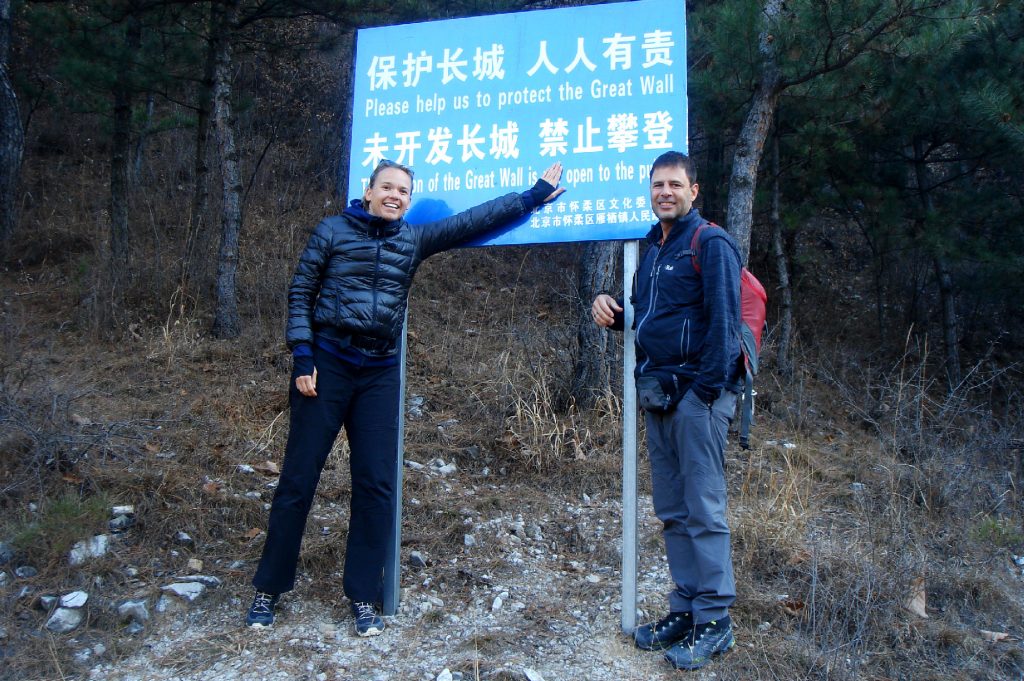 Our hike starts at Xizhazi Village at around 9.30am – John estimates it will take us a solid 6 hours to hike to Mutianyu. Little does he know about the year of hiking that's behind the both of us… cue Kilimanjaro. In any case- this is a different kind of adventure and instead of Pole, Pole we start out with a decent pace.
Arriving on Top of the Great Wall
After hiking on a narrow path through trees and steadily uphill, we arrive at the first watch tower that marks the Great Wall. We need to climb it and business oriented locals have build ladders that lead to the top and charge 5RMB per person and per ladder. John had made us aware here, thus it's no big deal and after a small and friendly banter, we continue on.
The view from the top is one to behold. Blue skies and a seemingly endless wall stretch towards the horizon. We climb to the roof of the watchtower to savor the sight and cannot help but be utterly impressed at the endurance and building skills of the old Chinese.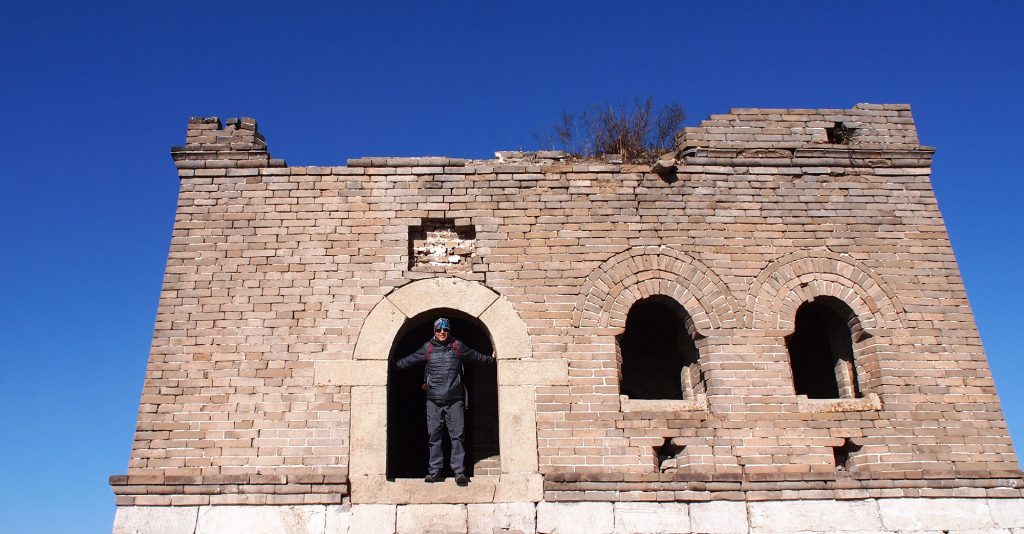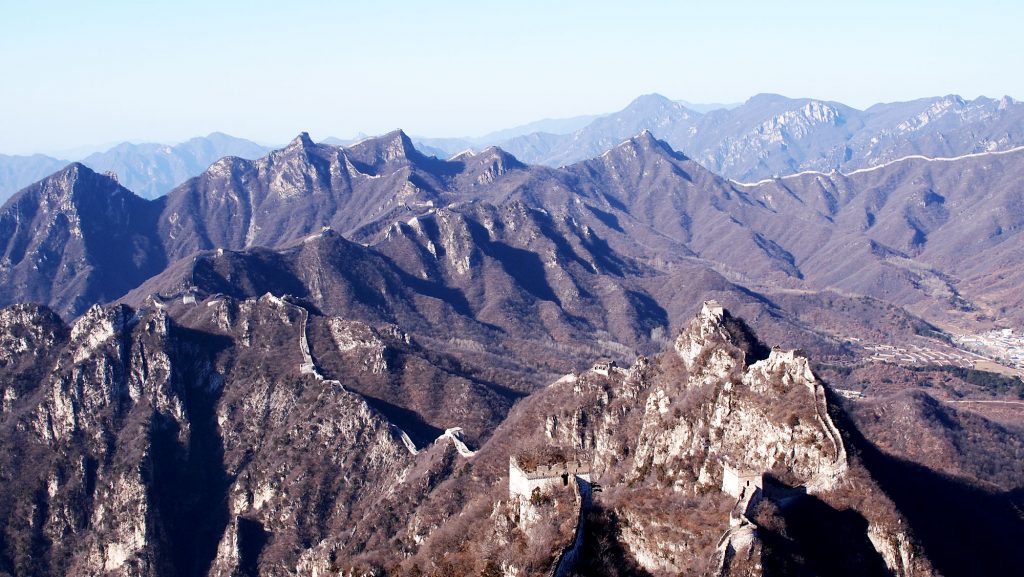 From here we cannot see our destination at Mutianyu, but at least there's not getting lost: always follow the wall!
The Great Wall runs along the ridge of the mountains, so we are in a steady flow of climbing and descending. And steep doesn't even begin to cover it. We are glad we opted for actual gear instead of just trainers and even though it's early November, the crisp air and the sun feel pleasant – eventually it's time to take off the insulation layer.
Prayer flags line the way at times. Then again the wall turns into rubble and the watchtowers have lost much of their substance to eager neighbors who needed supplies for their own homes. This is the kind of Great Wall experience I had been looking for.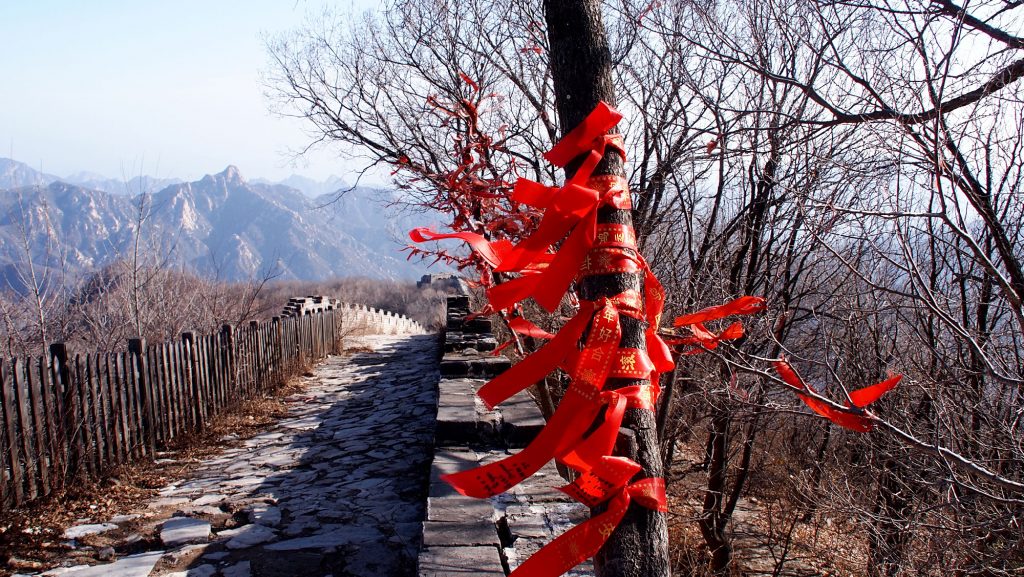 Closing in on Mutianyu – Great Wall Tourist Gate
It's just after lunch and the crowds grow denser. We are well ahead of schedule, yet now start taking our time, as we are not ready to share the Great Wall with masses of people. Mutianyu is one of the major gateways onto the Great Wall, thus it's no surprise that we are starting to encounter the first tourists who are hiking in the opposite direction.
Eventually, we can't avoid getting into the thick of it. Tranquility and awe are replaced by amusement and shock, seeing the typical hoards of tourists that flock together all over the country. The large groups in yellow ball caps as tell-tale signs they booked through the same travel company. The young (and old) ladies in heels, because heels are always a good idea. The selfie-stick lovers and the partner look couples. It's a suitable end to a great hike – we decide to take the Tagalog back down into the valley and stop for some Mapo Tofu, Jiaozi, and my favorite Qiezi (braised eggplant in spicy garlic sauce), before giving John a call to take us back to Beijing.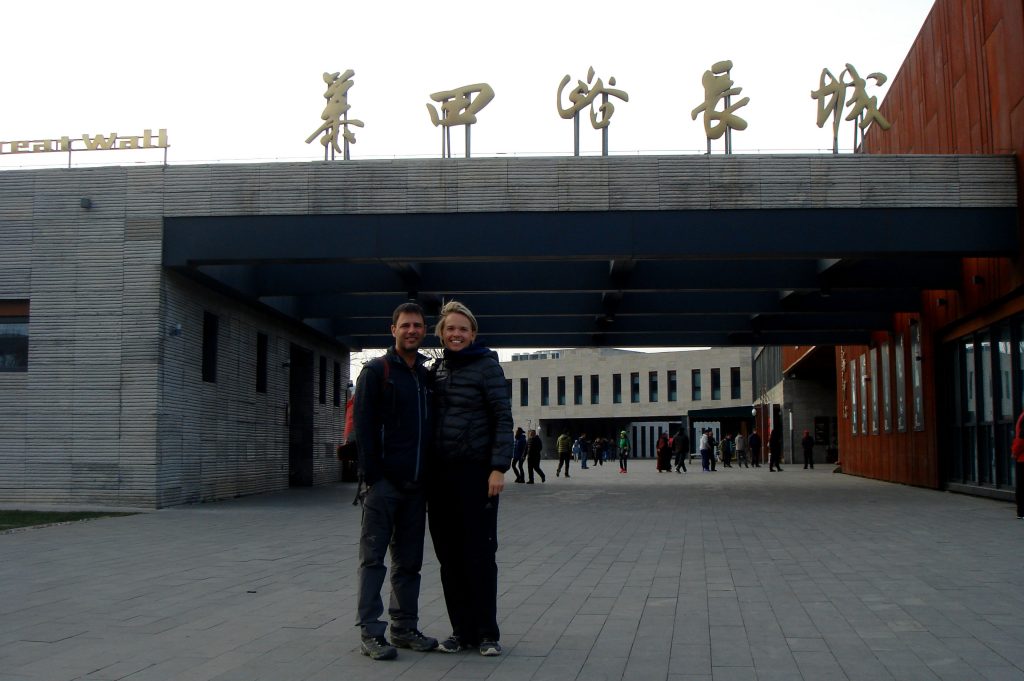 Sponsor Credit: GPS Trackers and GPS Tracking Devices from Amcrest