Beijing is so different from Shanghai – it's always refreshing to go for a visit. The Hutong life is so unique, the sights are ginormous, the food is great and the people's different dialect is charming.
I went to meet up with my college friend and we went to the Great Wall music festival – more on that on Monday – and then used Sunday to just ride around the city.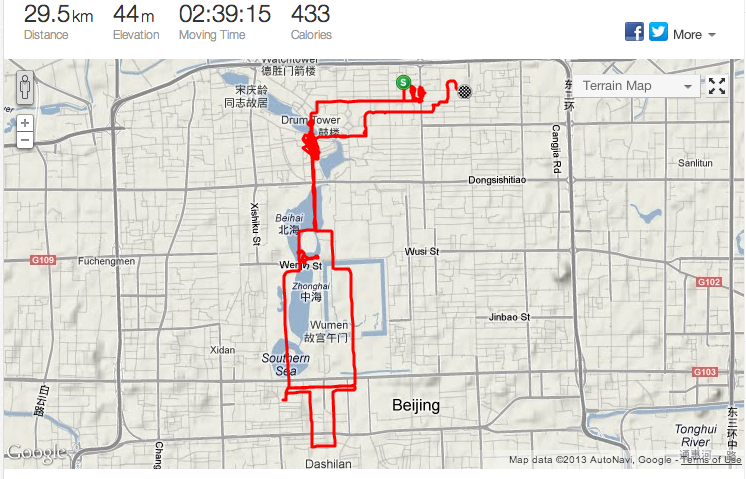 It's nice to ride in Beijing. There is so much to see, it feels a lot more versatile than Shanghai. Life is somehow a bit more authentic and colorful. And it's the world's largest bike paths (or at least close to that).
We got the bikes ready – one e-bike, something that's so very cool – and 2 regular bikes and set off for a scenic route leading through the northern Hutongs to the Drum and Bell Tower, around the Forbidden City to then lap Tiananmen Square and return around the other side of the Forbidden City back up north.
We started with a breakfast stop at Vine Leaf Cafe. A very neat little place with amazing eggs benedict. What more can you ask for to kickstart your day.

Our first touristic highlight stop was the Confucius temple. A very quiet and peaceful place to the usual Lama Temple or Temple of Heaven.
Of course we also encountered the obligatory Chinese travel group – this time with a predominant animal print theme. Ever so fashionable.
Other than that the temple is very quiet – almost a little deserted.

And when the setting is right, it's always good to squeeze a little yoga in. Here the far from finished tree pose.

East meets West – traditional dress and Esprit umbrella for sun protection. It seems like Beijing has a lot of these encounters..

I've never seen blue sky like that in Beijing. During my last visit in February the air quality was beyond index, as you may recall. This time around Beijing really showed what it had to offer. Absolutely beautiful!

And when the sun set, we decided it was time to get dinner. We went to Dali Courtyard, where you don't need to order but get a little menu, ever slightly changing and wash it all down with a Dali brew.