No matter how many trips I have been on, I will never be an efficient packer. Regardless of going for a quick weekend trip with just a carry-on or for a three-week adventure, packing will always take me at least 2 hours. The more adventurous the trip – the more important the gear.
These people that get up in the morning and quickly pack before they need to catch their flight? So admirable! Definitely not me :( Ever!
When it comes to the more specialized trips, like cycle-touring or mountain climbing, it's even trickier. To give you a bit of a helping hand, here's my chosen gear for climbing Kilimanjaro.
My Daypack:
I wanted something big enough to carry my camera, rain gear, snacks, water and sun screen, yet light and sturdy. Also – most outdoor gear comes in hideous colors and I was looking for something not too obtrusive, not too heavily branded and, of course, preferably black. And while I am all about the looks, I am all about the function too. So it had to be lightweight and ergonomic to wear.
I finally settled on a Black Diamond Nitro 26 and was very very happy with its performance. It has trekking pole loops you can tuck away when you don't need them. The shoulder straps are lightly padded, yet breathable. I kept my lip balm and tissues handy in the belt zipper pocket. It held my hydration sleeve and had lots of room for an additional water bottle. A rain cover isn't included, so I bought a simple black one cheaply on Taobao for a very affordable 12 RMB (around 1.50 EUR).
My Hydration Pack:
With a good backpack goes a good hydration pack. As mentioned, my Nitro has room for a hydration pack of 2 liters. I chose the MSR Hydromendary Hydration Bag, which worked great. The only thing I was missing here would have been an insulation sleeve to keep the water from freezing in high altitude inside the hose. Summit day with water would have been better. Generally though, this is a very easy to use, good quality pack that comes in handy for all adventures. It also comes in larger sizes so works with most backpacks.
My Headlamp:
A lot of times, summit attempts start at night. Kilimanjaro was no different, leaving camp at 1am. I needed a lamp that would be bright enough, lasting, and had different levels of brightness as we would climb until sunrise. I wanted something that ran on Lithium batteries to withstand the extreme cold.
I once again ended up with Black Diamond and chose the Revolt model. Its night vision mode was perfect, the batteries had no issue at all and you can even USB recharge it with the batteries that come with it (non-Lithium).
My Sleeping Bag:
Arguably, the most important piece of equipment to bring. When cycle touring Taiwan, I had been very cold, while my friend Jeff was warmer than warm. Thus, his sleeping bag must be great! (you cannot find fault in this logic, obviously a guy would by the right gear?! or obviously guys are warmer all the time anyhow?! ) Whichever, it's a nice sleeping bag so without much further in depth research I decided on the same brand but a model made for much lower temperatures. It's a Black Ice sleeping bag, fillpower 1300, so keeping me warm and comfortable (and thus asleep!) to below -15 to -25 degrees Celcius. Obviously I was hot for a huge part of the trip and kept it unzipped, but I am happy to report that during base camp night, I was one of the few people truly cozy and warm.
My Trekking Poles:
So I purchased these, because everyone (the Internet) says you need them to successfully scale a mountain. I looked for a pair that that would be ultra light, had a hybrid system (so I could make them very small for traveling) and that would be versatile enough for future use. I ended up settling on the Leki Carbon Titanium Antishock Trekking Pole. While they are very nice poles and I am happy with the purchase, I am just not the person for trekking poles: on the way up I prefer to use my hands to pull myself up rocks and boulders and on the way down I prefer to have my hands free as well. Thus, I used them exactly once for about 45 minutes and then gave up frustrated because to me it was like learning how to walk all over again – mostly they were in my way. That said, every other climber in my group heavily relied on their trekking poles, so I reckon it's a great investment for most people.
My Sleeping Pad:
Here I always rely on a oldie – my very first and only ever sleeping pad, that has kept my grounded and insulated since 2002. It's a self-inflating Therm-A-Rest sleeping pad, that still exists in exactly the same version today. Looking at how long mine has served me well, I'd say it's a great investment and I highly recommend it.
My large Backpack:
Again, I bought this one initially in 2002 for my Interrail Europe trip after graduation. It's been around the world and back and while not being the prettiest, it's been great quality, never any issues and I have not seen need to replace it at all. It's a Jack Wolfskin Agadir Women 65. It's not made like the one I have anymore, but you can find a smiliar model here.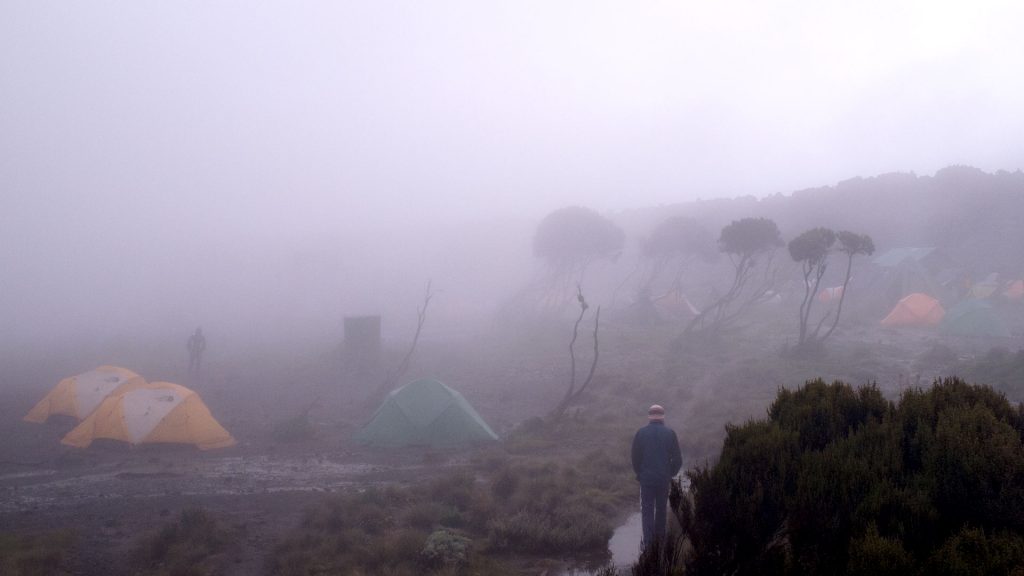 Other items, that must be on your packing list:
Gaiters: I wore mine practically every day. First against the rain and the bugs, later for additional warmth.
Drone Pack: For our trips, we have bought two drones under 100(each) and needless to say, they are perfect for capturing great shots of our trips.
Rain jacket and pants: Again, it rained a lot, but it's also great to keep the wind out.
Down Parka: an obvious one, yet something I didn't really take so serious – and paid for it! Being warm makes all the difference on that final ascend, so choose a down parka that comes with at least an 800 fill power and that has enough room to move when wearing multiple layers underneath.
Trekking Pants in long and short. A sturdy material for both – they'll be the pants you wear everyday, one pair suffices, just make sure they provide ultimate comfort.
Functional Layers for your upper body: long sleeved brushed back polyester tops go a long way to keep you warm, ventilated and dry. Throw in a pair of ski underwear for your bottom half as well.
Hiking Shoes: which ever brand you choose, make sure they are well worn and comfortable. The last thing you need on the mountain is blisters. Opting for lightweight is not a bad idea, unless you are going to face deep snow and ice.
Beanie, cap, gloves, sunglasses and a buff to keep you warm and/or the sun off, depending on what's needed.
Underwear: anything but cotton. Cotton doesn't dry fast and carrying slightly wet things around in your backpack can get super smelly.
First Aid Kit: Ibuprofen, baby powder, band aids, a sowing kit, muscle relaxation creme, Voltaren
Cosmetics: sunscreen is basically the only cosmetics item you'll need. There is no shower on the mountain, brush your teeth twice a day, bring plenty of wet wipes to clean up after a day of hiking, some light moisturizer and a heaver cream for lips, nose and hands, deodorant and potentially dry shampoo to fight the very greasy hair are all you need.
Technology: a diary and pen to collect your memories, an external charger to keep your phone alive for photos and music, a decent camera and a back up SD card and battery.
Let me know if you have questions, if you think my list is missing something or if you have a great trek to recommend.