I just finished what I thought would be the last of the "A Song of Ice and Fire" books. Turns out my box set is one book short and there is a 5th one. Despite my love for fantasy and sagas and big fat volumes of books, I sometimes wish that the authors would find an end. Not every book needs another 4 prequels and sequels. (Something that also just happened to Wolfang Hohlbein's 'Die Templerin', but that's a different story).
I hope you managed to see the first season of Game of Thrones on HBO, then you'll know what your in for with the books. Thousands of pages on war, wolves, whores and dragons. It's crazy and crazy good. And I read these books throughout most of my recent holidays, the exception being the last one where I indulged in the Hunger Games to be ready for the movie.
So if you have a few days off coming up or even better a longer holiday then I would highly recommend to get on it and read this beast.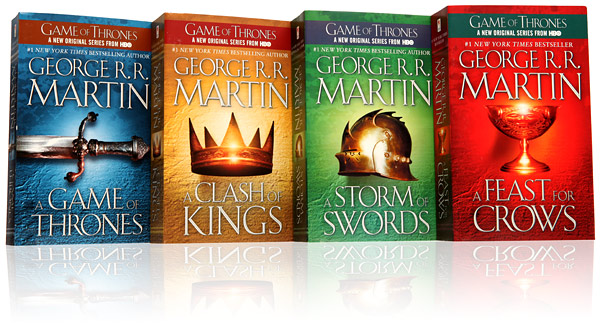 And on HBO season 2 is just around the corner.
Z2QJ7WFKDXUM