Cheonggyecheon
A Walk by the Stream Where the Air is Cooler.
I took took a few days off work in July to spent a four-day weekend in Seoul. I had previously been to Seoul, albeit for business, and I really wanted to get a better impression of the city and culture. There wasn't any detailed agenda – there were just a few things we definitely wanted to do while being in the city, such as cycling along the Han River, eating Korean BBQ and seeing some architectural highlights.
We stayed at the very recommendable ShinShin Hotel – extremely helpful service, good English skills, decently sized rooms and practical location just around the corner from City Hall.
We arrived shortly after lunch and in order to get a first cultural impression, we set off to visit the Palaces as well as the little alleys in Samcheongdong & Bukchon Hanok Village.
Taking a walk down Cheonggyecheon Stream to Cheonggye Plaza provided a blissful cool breeze and it truly is the place where Seoulites come and hang out for their lunch break, enjoy a date or a coffee and let their feet dangle in the water.
The clear architectural highlight is the EWHA Women's University that was designed by Dominique Perrault. The campus is split in two halves, the classrooms face inward and the roofs are gardens to lounge around. A lot of natural light and greenery give a very peaceful feel to this urban oasis. Miguel happened to be very popular with the young Korean girls and got to take a lot of pictures with and for them.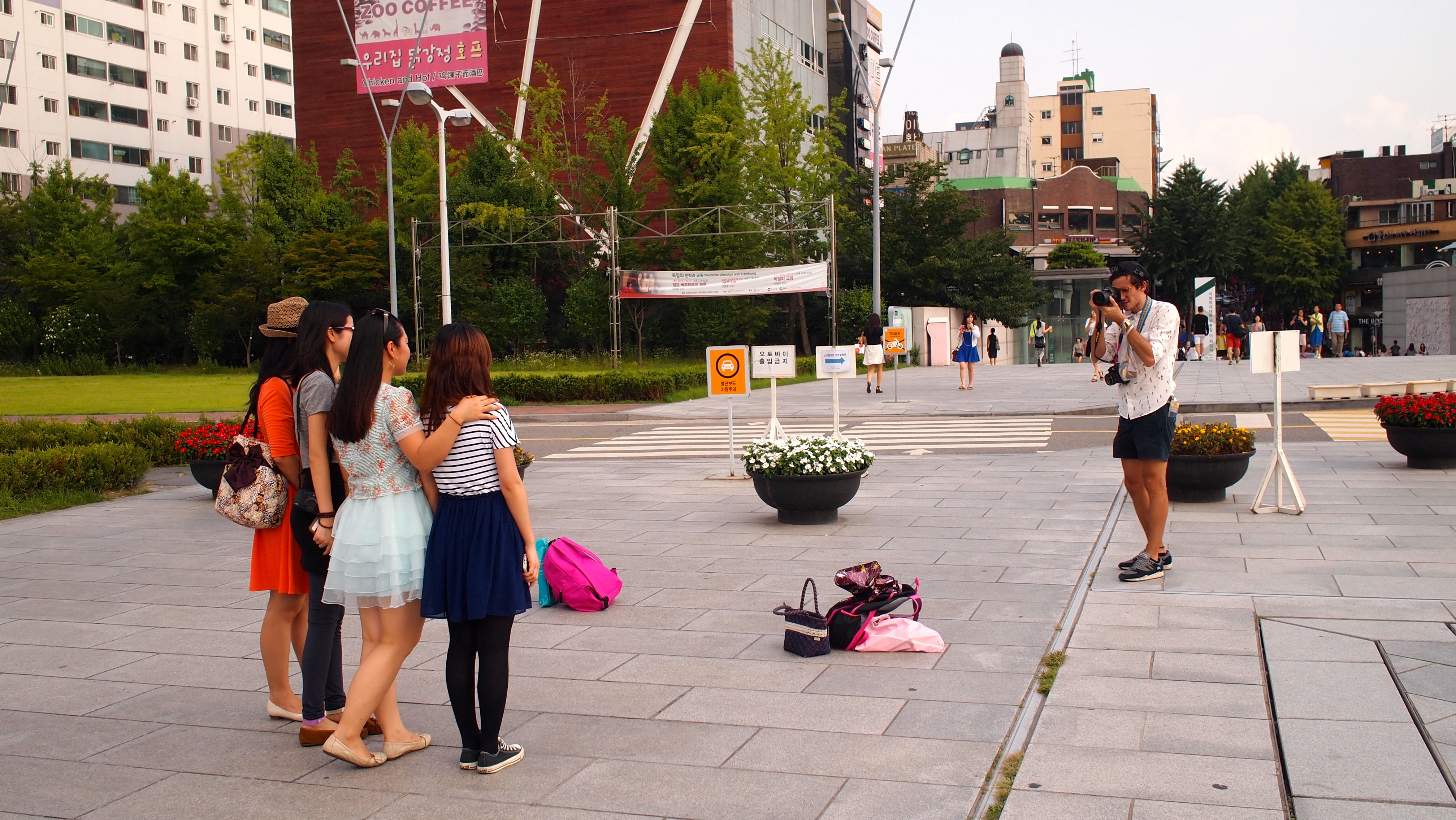 On our last day in town we decided to rent some bikes on the banks of the Han river to cycle to the Olympic Stadium. As per guide book recommendation we went by metro to Yeouido Station where we were suppose to find a rental station. So we did. HiSeoul has city bikes for rent right next to the station – simply enter your passport information and pay with your metro card. It's a very reasonable 3.000KWON and easy to understand. We happily cycled along – only to realize an hour and a half later that the distance to the Olympic Stadium was a decent 25km at best.
While it was hot and wearing a skirt possibly wasn't my smartest move – it was a lot of fun (even though I admittedly did complain a lot). We stopped along the way, came across the Color Run which took place that weekend and finally ended up at the Olympic Stadium. I was ready to dump the bike and take the Metro to get to dinner. And here's the hook: HiSeoul has exactly 1 rental station in town (according to some very friendly Jehovah's Witnesses that tried to help us out). While we could have gotten on the metro with our rental bikes we decided to tough it out and ride back. Not a small feat on miniature Asian rental bikes. See the full route on my Strava.
Seoul is a lovely city, great shopping around Garosu-Gil, the best honey-glazed pork belly and of course the BBQs are the best. Next time I'd like to get out and see the National Parks around the city. Time to venture inland.
Check out the full photo album here.